---
This mixed media project is a result of me being unimaginative. Yes, there are times wherein a creator gets a brain fart in coming up with ideas. Well this probably only happens to me because I can't speak for every creative person out there.
Honestly, my inspiration for this color pallet came into mind while I was watching Jaclyn Hill's My Halloween Party | Get Ready With Me where her esthetic were fire and red in theme.
The art process was a little bit difficult to compose because I wanted to use black as my background as opposed to the usual white. In other words, it got all over the place. I have incorporated the white gesso and Tuscan red acrylic paint pouring at the end because I was curious on how the paints will behave. Plus I wanted to try pouring acrylics from watching resin artists lol!
This slideshow requires JavaScript.
For the materials used (I didn't buy anything new everything is from my leftover stash from previous projects) and other suggestions, please refer to my list below:
CANVAS
12 x 12 canvas panel from an old project that I had to rip all off the embellishments.
---
PRIMER
Black Demco Gesso 1000mL C$20.49 from Deserres
Alternative Gesso for S9.00*
Prima – Art Basics – Heavy Gesso – Black – 8.5 Ounces
Scrapbook.com
---
ADHESIVES
E6000® PERMANENT CRAFT ADHESIVE, 2.0 OZ. at Michaels. Choose the transparent one. Warning: this is an industrial type of adhesive and has a strong odor. I would not totally recommend this one unless a gel medium is not working for you.
Heavy gel mediums are great for adhering 3D embellishments such as flowers, die cuts, chipboards and some metallic ones.
Aleene's Tacky Glue 16oz at Walmart for CA$ 8.97. I think this doesn't dry as clear as I want but it's a great alternative to gel mediums. You just have to experiment on the durability when using with heavier embellishments.
---
LAYERING:
FIRST LAYER: STENCIL AND MODELING PASTE
AMERICANA® STENCIL, GEARS & COGS from Michael's

Alternative Gears and Cogs Stencil for $6.00
The Crafter's Workshop – 6 x 6 Doodling Templates – Mini Gears
Scrapbook.com
---
SECOND LAYERING: Focal Point – also involves layering of embellishments or different media
---
THIRD LAYERING: Acrylic paint pouring
Artist's Loft® White Gesso 16oz $9.99 at Michaels. My primer for the canvas.
Prima – Art Basics – Heavy Gesso – White – 8.5 Ounces $US 9.00 or less.
DecoArt Tuscan Red from the Dollar Store
---
Finishing layer
Heavy Gloss Gel medium. Bought this tub at Micheals but here's a link to Amazon for pricing. If you wanted a glossy look, this is a great option.
The Finnabair art basics is a great product and a bit cheaper than my Liquitex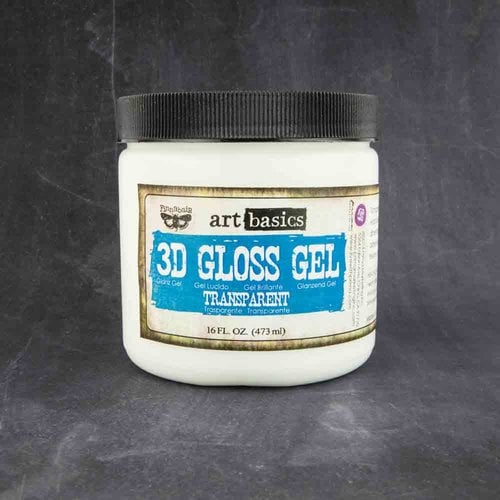 Prima – Finnabair – Art Basics – 3D Gloss Gel – 16 Ounces
Scrapbook.com
*Affiliate link from Scrapbook.com - should you purchase the product using my link, I might be receiving a small commission based on your purchase. My links will never affect the prices of the products. What I earn will be allocated to improving my content and buying better equipment for better video quality.